The Aztek Scooters 2020 range is a thing of beauty and showcases some of the most advanced design and production techniques our industry has seen.  And guess what? It's available now!
There is so many products in this range that we have had to split this blog into 2 parts. Part 1 will cover the new completes and decks and Part 2 will cover the rest of their new products.
Here's what Rider/Owner Dom Marconi had to say about the all new Aztek Scooter 2020 Range.
"I designed my first scooter part over 10 years ago. Since then, I have learned a lot, not only about design and manufacturing of scooters, but also about the way people ride them, and the subtle different feelings that each scooter component can give you under your feet. I've taken everything I've learned since then and used it to create this product line which you are about to see. These are the most harmonious products I have ever created and are designed to give the rider an experience second to none. I truly believe that many of these products will set the new standards in the industry for scooter design."
2020 Fountain Complete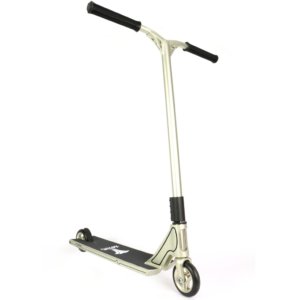 After creating one of the most popular street decks of all time, the Fountain Deck, Aztek set out to create a complete street setup built for riders' needs. The Aztek Fountain Complete is designed to be the ultimate street scooter for beginner to intermediate riders.
The ultimate street scooter is newly updated for the year with a ton of new features. A 5.5″ wide deck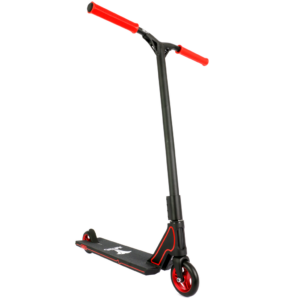 with solid, rounded aluminium dropouts allows for smooth, stable grinds. A fully forged aluminium fork and Aztek Apollo Alloy bars reduce weight for effortless tricks. SCS compression keeps it all tight and ready to fit all upgrades. Smooth Black and Ivory colorways make it the most stylish complete scooter on the market. Built ready to shred any terrain.
Full specs of the Aztek Fountain Complete:
Fountain Deck 5.5″ wide x 20.5″ long
Fully-forged fork with an 8mm compression bolt
Aztek Apollo Alloy Bar
110mm Aztek Trilogy Wheels
Aztek 190mm Grips
Hydra Deck
First and foremost, scootering will not be the same after the release of the Aztek Hydra Deck, with dual tubing technology allowing Aztek to create an unbelievably light deck. The Aztek Hydra Deck will revolutionise not only the way decks are made, but also the tricks that are possible on a scooter!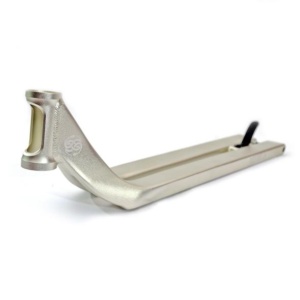 The Hydra Deck is constructed from patented hydroformed tubing, which makes it the lightest deck ever created (by far!). This revolutionary design removes the weakest point of the deck, replacing it with a smooth contour that distributes stress across the entire length of the deck. The same comfy concave as Aztek street decks makes this deck extra ergonomic and responsive under your feet. Rounded,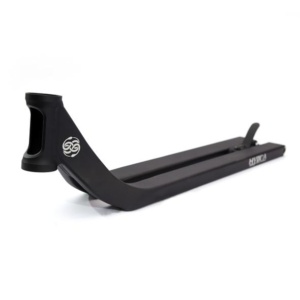 reinforced dropouts as well as a "blunt notch" in the front create a preferred grinding surface for the rider and the width and concavity of the Hydra Deck give unmatched control and stability. This deck is a must have for any park rider looking to take their tricks to the next level.
The Hydra Deck is available HERE in 2 colours (black and ivory) and 2 sizes (5″ x 19.5″ , 5″ x 20.5″) and compatible with 24mm wide wheels.
Lucid Deck
Designed to set the standard for scooter decks in the industry, the Aztek Lucid Deck will expand the threshold of what is possible on a scooter! An extremely lightweight design with a computerised stress analysis allowed Aztek to create a cost-effective extruded headtube for the Lucid Deck that will outlast most forged headtubes currently available.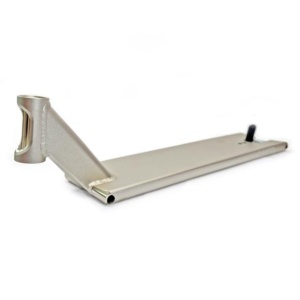 The Lucid Deck feels thin and ultra-light under your feet while deep concave gives it a responsive feel. The bottom of the deck has the same radius on each side, combined with solid aluminium dropouts to create the first bidirectional grinding surface. Rounded edges allow you to dial in your balance points on rails, with identical rounded and reinforced dropouts for the front and
back creating a surface that is more "bidirectional" which gives grinds the same smooth feel whether you're grinding on the front, back, or sides. The Lucid Deck creates a riding experience that you'll have to pinch yourself to believe.
The Lucid Deck is available HERE in 2 colours (black and ivory) and 3 sizes (5.5″ x 22″ , 5.5″ x 23″ , 6″ x 23″) and compatible with both 24mm and 30mm wide wheels.
More about the new Aztek 2020 range (i.e. wheels, forks, bars and clamps) in our next blog.