More to Micro Than the Mini Deluxe…
The Micro Mini Deluxe is the scooter most people think of when they think about Micro Scooters. This is probably because every child under the age of 6 seems to be hooning around on a Micro Mini Deluxe.
However, Micro offers a range of scooters that cater for absolutely everyone. Here at My Scooter Lab we stock everything from the Micro Mini Deluxe to the Micro Premium Adult scooter.
With such a diverse range it can become tricky to choose the scooter that is right for you or your child, so we want to make that decision a little easier for you. When looking for a scooter for your child, you need to consider their skill level, size, weight and your budget.
So, let's get into it, first off, we have the Micro Mini Deluxe.
The Mini Deluxe is what most kids get as their first scooter. We've seen kids as young as one ripping around on these due to their stable three wheeled set up. The steering system on these is amazing and allows kids to turn tight without the scooter becoming wobbly and unstable.
You also have the option of purchasing a seat that takes the place of the handle bars and allows your child to use their Mini Deluxe as a balance bike if they aren't quite ready to ride their scooter standing up.
The Mini Deluxe is weight tested up to 35kg, but most kids get too big for it before they reach the weight limit. It's recommended for children ages 1-4 but we do see kids up to 6 riding them.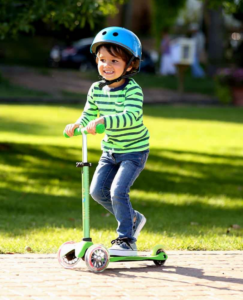 Next on the list would have to be the Micro Maxi
Like the Mini Deluxe the Maxi has three wheels and the 'lean to turn' steering system that makes them so stable and perfect for smaller riders. However, the Maxi is a lot more robust making it more suitable for older kids. It has a max weight of 50kg, and the bars can extend high enough for some adults to ride so you definitely don't need to worry about your child outgrowing it too soon.
Micro recommends the Maxi for children from 4-15, but most kids seem to jump over to a two-wheel scooter around the age of nine.
From the Maxi it's time to move into two-wheel territory. That means you're looking towards the Micro Sprite and the Micro Cruiser.
The Sprite is an ultra-lightweight two-wheel scooter that is perfect for ages 4+. The adjustable handlebars mean you don't need to worry about it being the wrong height for their child. They are also collapsible, so it makes them easy to store or just to carry around. They have a weight rating of 100kg, so most people will be able to ride them.
If the Sprite isn't your thing you will surely love the Micro Cruiser.
It's recommended for kids aged 4-12 and is the only kids scooter from Micro that comes with the 200mm urethane wheels which make it very easy for kids to cruise along and maintain speed with very little effort. It has wide retro style handlebars to make it a little more stable for kids that are just transitioning from a three-wheeler.
From here its time to transition into the adult scooters.
Starting with the Micro Premium Adult scooter. This scooter is made to be fast and easy to ride whether you want it for the daily commute to work or you're just trying to keep up with the little ones. Like the Sprite, it has adjustable handlebars that can go high enough for adults to ride comfortably but still folds up nice and compact to make storing it or taking it on public transport super easy.
The final scooter from the Micro range that deserves a mention is the E-Micro Falcon. As the name suggests, this is Micro's electric scooter. Unlike most electric scooters, this thing is super compact. It has enough power to get you from A to B with ease. There's so much we can say about the E-Micro Falcon so if you want to read all about it check out our previous blog on the E-Micro Falcon.